Well, this came as a pleasant surprise, it must be said...
The online zine
Journey Planet
hits #39 with a special Judge Dredd themed issue, helmed by Dredd scribe
Michael Owen Carroll
- and featuring an old Zarjaz strip by me, Kev Levell and Bolt-01!
The story -
The Taking Of Mopad 456
- first appeared
waaaay back in Zarjaz 15
, and was the first Dredd story I ever wrote for the fanzine (but not the first one published). It was also the only time I ever got to work with Kevin Levell, an artist who was destined to draw Dredd for Tharg if there ever was one - I mean, look at this: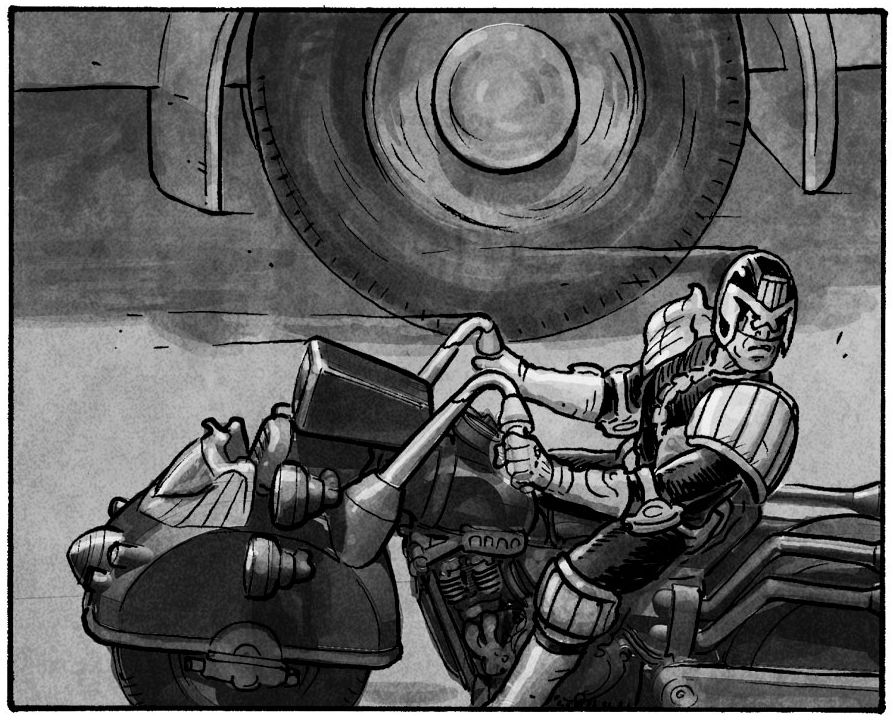 The story was a shamelessly old-school Dredd tale that was an attempt to invoke the classic, early era of the series - so much so, I was adamant that it had to have been done before, and it would be knocked back. To my eternal surprise, though, it
hadn't
been done and Bolt-01 said he could imagine it was something drawn by Ron Smith - which is
still
one of the nicest compliments I've had about anything I've written.
Anyway. The strip is available - for free -
in Journey Planet #39
, or it's available in
Zarjaz
#15, copies of which
are still available from FutureQuake
.
Zarjaz #15
also includes another Dredd tale by me, Big JIMPin' with David Broughton - so that's
two
lots of Dredd for your buck! And it has this amazing Edmund Bagwell cover:
Journey Planet
#39 is packed to the gills with Dredd-related goodness, including interviews with John Wagner and the lads at Zarjaz, character sketches from the collection of James Bacon, a history of Dredd, extracts from Pat Mills'
Be Pure! Be Vigilant! Behave!: 2000AD & Judge Dredd: The Secret History
and much,
much
more that should keep any Dredd-head happy.
The zine is a free to download PDF,
available directly from the Journey Planet website
.
Also, huge,
huge
thanks to Michael Carroll for featuring
The Taking Of Mopad 456
in the issue!
And just because, here's an old Dredd sketch from Kev himself:
Out Now: Journey Planet #39
Reviewed by
Lee
on
12:12 pm
Rating: