About Me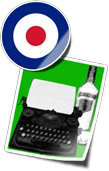 Lee Robson is the writer/co-creator (with Bryan Coyle) of the critically acclaimed indie graphic novel Babble, published by Com.X.
Currently living and writing in the north east of England, his work has appeared in various anthologies, including the Eagle/True Believers Award nominated FutureQuake, its sister publication, the horror themed Something Wicked and Aces Weekly.
Find his work on Comixology or contact him here.