A little late to this, I'll admit, seeing as the comics will be launching at Thought Bubble
tomorrow
, but the latest round of titles from
FutureQuake Press
are out now - and they include a story from me and my regular partner in crimes against comics
Bryan Coyle
called
First Contact
!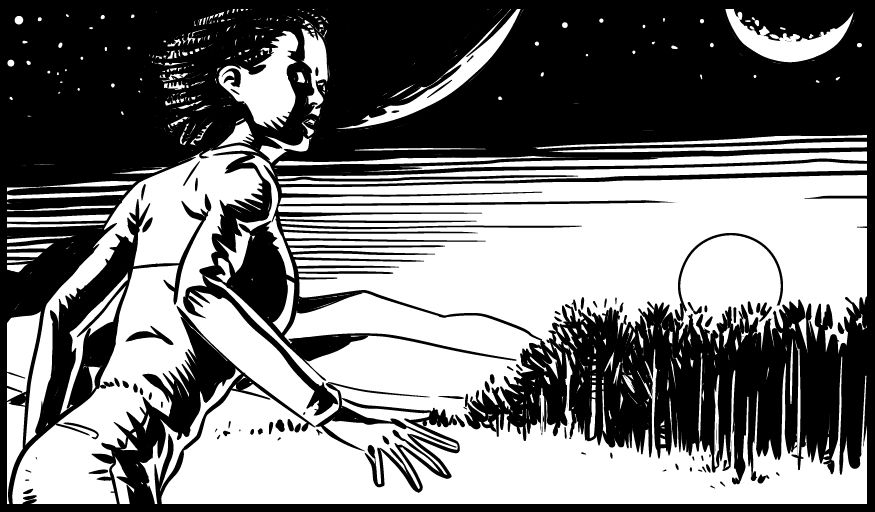 When The Olympian touches down on an unexplored world, the crew are struck down by a flu-like alien virus. While the ship's doctor, Harding, searches desperately for a cure, the ship's captain, Mendes, goes missing...
First Contact
was an attempt to write a classic, old-school "Future Shock" style story, but it proved to be a lot tougher than I realised. It went through about four or five drafts before it got completely locked down and, thanks to some coaching on the script, I walked away from it having learned a hell of a lot. And, y'know, I think I got a pretty fun little story out of it, too.
There's not really much I can say about Bryan's work on this that I haven't said about three billion times before. He absolutely delivers on
First Contact
; not only does he bring his trademark crystal clear storytelling, he captures the right tone and atmosphere for the story, all while keeping everything grounded and realistic. He's a modern master in the making, I think - although, no one tell him I said that!
Anyway, the bumper sized FutureQuake Winter Edition is available to buy now
from the brand, spanking new FutureQuake Press site
, priced £6.50 (plus shipping) and features this cover from ECH:
The Winter Edition (or
FutureQuake
#30, if you prefer) should be available on Comixology shortly, too.
In the meantime, be sure and check out more back issues available from the
FutureQuake Press site
and
check out their new blog
, too!.
FutureQuake: 2016 Winter Edition - Out Now!
Reviewed by
Unknown
on
10:32 am
Rating: