Since they put this out over
on The Quaequam Blog last week
, I think it's safe to repost it here. So, here's a preview of the Judge Anderson strip from me and Dunk Nimmo that'll be appearing in
Zarjaz
#16, due for release in November: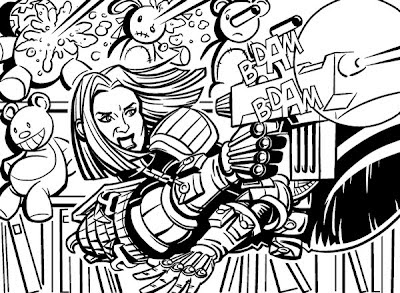 As night settles on Mega-City 1, Psi Judge Anderson is called out to investigate a hostage situation, but soon discovers it may be heralding the return of one of the city's greatest threats...
Between that breakdown and the title of the story, people will no doubt be drawing their conclusions about who said adversary may be, but, hopefully, we'll surprise them when the issue finally drops...
Judge Anderson's always been one of my favourite
2000AD
characters, and, since I started writing stuff for
Zarjaz
, I
knew
I was going to attempt a story featuring her. I just never realised how tricky it would be to strike the balance between the Mega City 1's weird sci-fi setting and the supernatural elements of the Anderson stories...
As ever, Dunk Nimmo does an utterly fantastic job with the art, blending the darker, creepier elements I tried to inject into the story with the off the wall sci-fi of Dredd flawlessly, and reaffirms my feeling that he's one of
the
best artists working in the small press today in the process. It's
always
a pleasure to work with Dunk and see what he'll bring to the table on a project, but we never seem to do enough together... But, I'm very pleased to say we
have
got something else in the pipeline, but I can't talk about it. Yet.
In the meantime, though, our previous collaboration, the
Zarjaz
/
Dogbreath
crossover,
Death To The Future
, is still available. Both parts can be found in
Zarjaz
#10 and
Dogbreath
#23:
Both comics are priced £3.00 (plus shipping) and are both
available from the FutureQuake Shop
.
A sneaky peek at Anderson, Psi Division: I, Death
Reviewed by
Unknown
on
10:21 am
Rating: