The latest issue of the Galaxy's Greatest Fanzines are here and I've got a brand spanking new strips in both
Zarjaz
and
Dogbreath
!
To start off, myself and
Jim Lavery
(with letterer
Bolt-01
) have teamed up again to bring you a strange tale from the mean streets of Mega City 1...

Investigating the latest in a series of strange disappearances, Judge Dredd comes face-to-face with the mystery lurking in Douglas McClure Block...
I don't really want to say too much about this, for fear of giving the story away, but I have to confess to having doubts about the script. It didn't feel quite right when it came together, like there was something missing - and that missing component turned out to be my friend and collaborator Jim Lavery.
Anyone's who's seen Jim's work can attest that he does indeed have the skills to pay the bills, as the kids say, and it's been great working with him over the last couple of years, watching his storytelling chops improve with every story. But with
The Boys Next Door
, he's really levelled up and produced one of the best looking Zarjaz strips I've been lucky enough to be involved with. His passion for the artform - and the sheer joy he takes in his work - just radiates off each and every page of the story. I think he's a name to watch out for...
Jim and I have a project in gestation at the minute, but in the meantime, you can see our previous collaboration,
End Of The Road, in FutureQuake #27
, which is available, in print,
from the FutureQuake Webshop
, priced £4.00 (+ shipping) and
digitally from Comixology
, priced £1.49.
Be sure to check out
Jim's Blog
and follow him
@JimLavery1
.
Also in
Zarjaz
#26 is a brand new Judge Anderson story,
Long Way Home
by myself and friend/long time collaborator
Bryan Coyle
(with
Bolt-01
on letters again):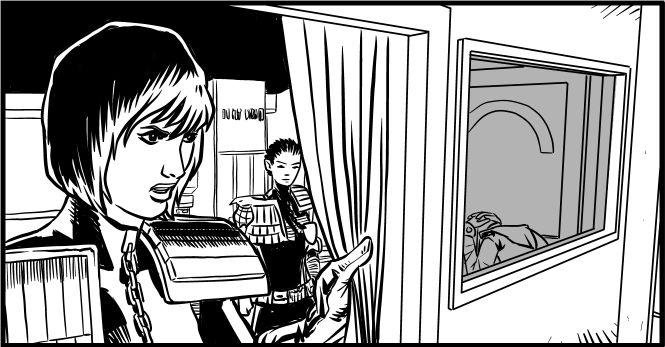 Escorting a prisoner from Luna-1 on a civilian transport, Judge Anderson finds herself looking into the murder of one of the passengers. But not everything is quite as it appears...
This is my third solo story with Anderson and, I think, my best so far. I wanted to try and keep the spirit and tone of the old Anderson solo strips, but at the same time do something a little different, something that would loan itself to an 8 page story, and - if you'll pardon my moment of pride - I think I pulled it off. Of course, Bryan elevated the script to a whole other level when he agreed to take it on, and proved, yet again, he's one of the best artists in the UK/Irish comic scene right now.
I've worked with Bryan for a
long
time now, and I've been lucky enough to watch him change and grow as an artist; he's mastering the craft in a way some high profile artists seem completely unable to, and every strip he's done is a step forward. I don't say this often enough, but his storytelling is absolutely second to none, and
Long Way Home
strip really showcases that, I think; there's a stunning clarity to the visuals that gives the story a real flow and draws you into the central mystery. This is, without doubt, some of his best work to date, and I'll be surprised if he wasn't tapped to come and draw an actual Anderson story for 2000AD in the near future.
There's a lot of collaborations between myself and Bryan available in various publications - far too many to list here, if I'm being honest, but you
can
still pick up a copy of our GN
Babble
from
Amazon
(
UK
|
US
) and
Comixology
.
In the meantime, be sure to check out
Bryan's Blog
and follow him
@BrigonChomhgail
.
As always,
Zarjaz
boasts another scrotnig cover, this time courtesy of
Paul Marshall
(with colours by Owen Watts) - which just happens to be based on the aforementioned Dredd strip by me and Jim...
---
Meanwhile, in
Dogbreath
#31, I have
another
two strips waiting there...
First up is
Durham Red: Like A Dog
by myself,
Paul Williams
and letterer
Bolt-01
:

When a routine job goes south, Durham Red suddenly finds herself the unwilling prey in an illegal hunt...
Durham Red's one of those characters I've struggled to get right on the very few occasions I've tried to write her; I'm not really sure why that is, but I think I've got closer to locking it down with
Like A Dog
than I have before - I'm fairly happy with the script, at any rate. Which is quite rare for me...
It's difficult to talk about Paul's artwork, because his style continually changes from strip to strip.
Like A Dog
looks nothing like
our Dredd strip True Believers
, for example, and neither of them look like the
Zarjaz Daily
we just wrapped,
Season Finale
. That said, his desire to choose the best style to set the tone and mood of each strip means each and every one is truly unique, and makes me wonder what he'll cook up for our next collaboration... Still, I think he's outdone himself with this strip; he gives it a realistic, down to earth feel, while at the same time retaining the weirdness and visual uniqueness of the Strontium Dog world, making it a real treat for the eyes.
Paul has a new website,
sketchymagpie.com
, which you should go and check out and follow him
@sketchymagpie
.
Also in Dogbreath #31, is
Strontium Dog: No Choice At All
by myself and
David Broughton
:
After Durham Red goes missing, it becomes clear someone in The Doghouse is selling out Stronts. When the number one suspect. Gil Gilman, disappears, Johnny Alpha tracks him down, but soon finds himself square in the sights of the local police...
As you may have realised, both this story and the Durham Red one are actually connected... I was asked to contribute a couple of scripts to
Dogbreath
quite a while back, and, just for fun, I decided to link the two stories (but also make sure they're both standalone pieces). The Durham Red story came fairly easily compared to this one, though; I've always struggled with Strontium Dog, so, for this, I decided to try and move away from the "western in space" story that characterises the series and push into some urban action.
Zarjaz/Dogbreath veteran David Broughton brings his usual panache to this part of the story, injecting a verve and real sense of excitement into it; he captures the visual aesthetics that make up the Strontium Dog universe beautifully, but at the same time makes the story uniquely his own - and I have to give special mention to his design of our villain, Gil Gilman, it's
really
inspired, but I don't want to say anything more because, y'know, spoilers. I've only worked with David once before -
way back in Zarjaz #15
- but it's always a pleasure to see what he brings to the table, and he never disappoints.
Be sure and
check out David's blog
for sneaky peeks at his upcoming projects.
Dogbreath
#31 features this rather special cover from Steve Green (with Matthew Simpson as Johnny Alpha and Kevin Horsham as Wulf Sternhammer from the upcoming
Fan Film Search & Destroy
):
Both
Zarjaz
#26 and
Dogbreath
#31 are available to buy now from the
FutureQuake Shop
, priced £3.00 each (plus shipping).
And a whole bunch of back issues are still available from the FutureQuake Shop, if you think you can handle the extra Thrill Power!
Zarjaz #26 and Dogbreath #31 - Out Now!
Reviewed by
Unknown
on
10:42 am
Rating: