The latest issue of the Galaxy's Greatest Fanzine is finally here, I've got two strips lurking within their hallowed pages.
First off, myself and
Alfie Gallagher
(with
Bolt-01
) have cooked up something special for the issue...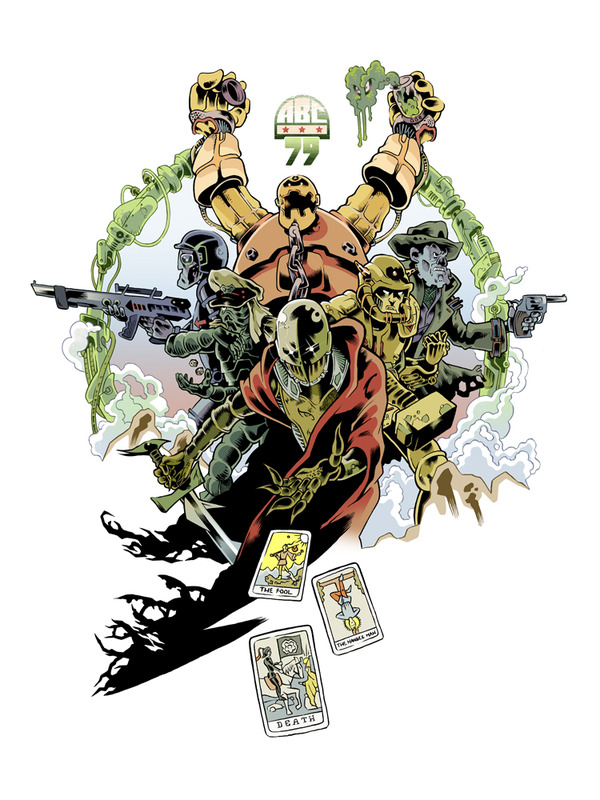 In this untold tale of the Mars mission, The ABC Warriors are tasked with bringing down the The Crimson Brotherhood, a cult manufacturing the drug known on the streets of the Martian colonies as Red Spice. However, things take a dark turn as the cult leader - a mutant known only as The Abbott - enters the fray...
I have to give all credit to Alfie for pushing me to do this. I really wasn't sure when he suggested doing an ABC Warriors story together (I've never been completely happy with my previous attempts at writing the characters for Zarjaz), but something about scripting Red Spice just clicked neatly into place and it proved to be a ridiculous amount of fun - and the idea of setting it during the original Mars mission was just the icing on the cake for me. Being able to build this from the ground up with Alfie gave us, I think, a chance to put our own unique spin on the story and tell something that was uniquely
ours
.
I've talked before about how beautifully expressive Alfie's pencil work is, but he
really
raised his game for this one, producing one of the best looking Zarjaz strips I've been lucky enough to be involved in. His passion for the story and the characters shines through on the pages, making the Devil Planet live and breathe in every panel. It's testament to his skills that he manages to evoke a sense of the original series while at the same bringing something new and fresh to the mix. There's just so much good stuff in these pages (Deadlock's teasing of Hammerstein, The Mess in action and, of course, Mongrol's entrance) and I encourage anyone reading this to pick up the issue just to see Alfie's mastery at work.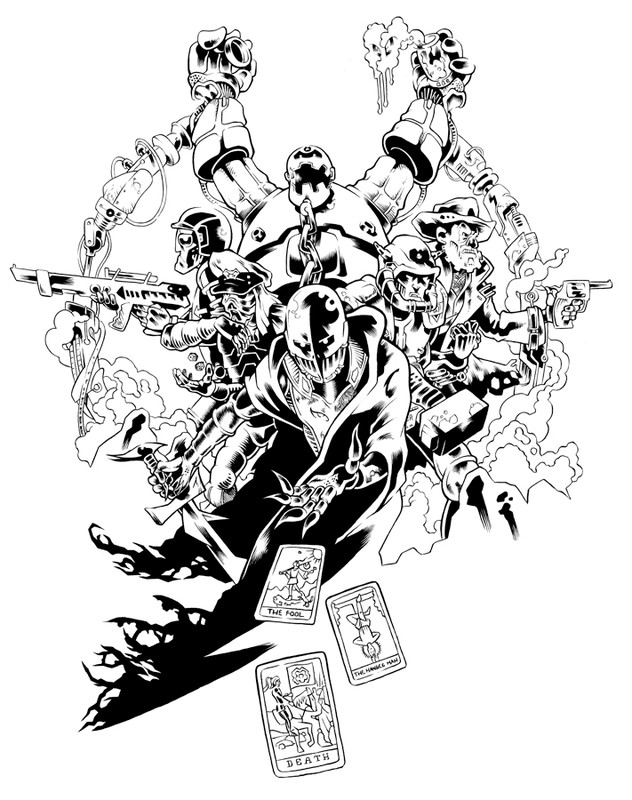 As always, it was a pleasure working with Alfie, and I sincerely hope we can find something else to work on together in the very near future, but in the meantime, you can see more of Mr Gallagher's work in
The Complete Charlatan Tales
,
available now via Comixology
. You can follow Alfie on Twitter
@AlfieGallagher
and read
his own blog entry on Red Spice here
, which includes some of his process on the creation of the art.
And if
that
wasn't enough Thrill Power for you, myself and
James Newell
have something in the same issue, in the shape of
Rogue Trooper: The Walking Dead
...
When Rogue stumbles across a village populated by G.I.'s, he realises he may have a chance to give Helm, Gunnar and Bagman a second chance at life...
Oddly enough,
The Walking Dead
was my
first
attempt at
Rogue Trooper
(
Infested
was my second, but the way these things work out, it just happened to appear first), and, I have to admit, I was wary about the script when I was working on it - it's difficult to come up with a Rogue story that's different enough from what's come before, but also familiar. My doubts were lifted when I saw James pages, though...
This was my first time working with James - but not my last! - and I think it's fair to say I was pretty bowled over when I saw his work. He brings a distinct old-school feel to the pages that really would feel right at home on an actual
Rogue Trooper
script (and his lettering is just the icing on the cake); he captures the action sequences and the quieter story beats equally beautifully, and makes this weird little corner of Nu-Earth we've created come to life on the page.
I'm pleased to say that James and I have something else in the pipeline for
Zarjaz
, which should be hitting sometime in 2016. Personally, I can't wait to see what he whips up for that... In the meantime, be sure and
check out James' blog
to see what else he's up to.
As always,
Zarjaz
boasts a rather scrotnig cover, and this time, it's courtesy of
Daniel Dwyer
:
Zarjaz
#25 is available to buy now from the
FutureQuake Shop
and the
FQ Comicsy Shop
, priced £3.00 (plus shipping).
And, a whole bunch of back issues are available from those links, too, if you think you can handle the extra Thrill Power!
Out Now: Zarjaz #25
Reviewed by
Unknown
on
10:35 am
Rating: