So, the latest issues of
FutureQuake
and
Zarjaz
are out now, featuring stories written by li'l ol' me!
First up,
FutureQuake
#26 features
Part Of The Process
by
Jim Lavery
and me.
When two down on their luck petty crooks stumble across a crashed pod belonging to an intergalactic drug cartel, they think their fortunes are taking a turn for the better. But their troubles are only just beginning...
Editor extraordinaire (and letterer on this very strip)
Bolt-01
briefly touched on some of the background to
how this story came about over on the FQP Blog
last year, and I talked about it a bit more in depth in
my end of 2014 blog post
, but for those of you who don't want to waste time clicking a link,
Part Of The Process
was a bit of a strange one.
Jim approached me with a bit of a problem: a collaboration he'd been working on fell through and he now had six pages of completed art that he didn't want to let go to waste. So, he asked, could I do anything with the pages? Being the
mug
softy I am, I agreed to take a look and see if I could come up with something.
With the artwork already complete, I had to try and come up with a story suggested by the visuals, and then add dialogue to create personalities to match the physical look and actions, as well as make sure it drove the story to the conclusion that was laid out in the artwork. If I had to grasp for a tortured analogy (which I may as well), it was like re-decorating a room: everything - the size and shape - was already there and all I could do was try and give it a new lick of paint.
I had to cede a lot of control over pacing and story beats, too (which is not something I've really had to do before), and I also had to be careful about the
amount
of dialogue I added, too, which proved to be the trickiest part of it all. Overall, it was an interesting experience, working "Marvel Method" (even though I know it wasn't
strictly
"Marvel Method"), and, I'll admit, one I wasn't completely comfortable with. But, with a bit of distance, I think I'd like to take another run at trying it, if the opportunity ever came up.
You can see how successful everything was in
FutureQuake
26, available now from the
FutureQuake Shop
, priced £4.00 (+ shipping). The issue also features this rather lovely cover from
Matt Soffe
:
Myself and Jim will be returning to the pages of
FutureQuake
with another sci-fi short,
End Of The Road
, soon. In the meantime, you can follow Jim on Twitter
@JimLavery1
.
Also out now is
Zarjaz
#23, featuring a brand spanking new Judge Anderson strip,
The Line Of Duty
, by me and
Alfie Gallagher
(from a story by
Bryan Coyle
)!
When two blocks who have lived in harmony for years suddenly explode in all out war, Anderson arrives to investigate the mysterious psychic emanations emerging from them. But can she get to the bottom of it before the residents kill each other?
The process in getting
The Line Of Duty
together turned out to be quite a long and tortured one. It initially started as an idea for a more action packed Anderson story from Bryan. I built on that and wrote a couple of drafts of a script, but, when it was done, we both realised that we weren't happy with it, so it got shelved. Quite a while later - maybe close to a year, I think - while watching
Dredd
, again, I came up with an idea to make the script work, but keep the central premise intact. Once we locked it all down, we pitched it to
Zarjaz
, but Bryan had to step away before it could go any further. Waiting in the wings to take the reins, however, was Alfie Gallagher, who proceeded to pretty much knock everyone out with his take on the strip.
Alfie's initial sketches of Anderson completely floored me. He produced a far more realistically proportioned Anderson, but one who still looked every bit the Judge:
From these sketches, we - myself and the guys at
Zarjaz
- were excited to see what Alfie would do with the strip, but when his pencils came in, we were completely bowled over.
It's difficult to explain how beautifully expressive Alfie's pencil work is without sounding trite or just plain ol' hyperbolic. He captures the characters in a way that makes them feel completely human and three dimensional on the page, while at the same time capturing the madness of Mega City One; he balances the action and slower story beats perfectly, and always retains a visual clarity that keeps everything flowing smoothly.
It has, without doubt, been an absolute pleasure working with Alfie - so much so, we're actually re-teaming for
another Zarjaz
story, this time featuring everyone's favourite war robots
The ABC Warriors
. Having seen the pencils for that, I do believe Alfie's topped what he did with our Anderson collaboration. More on that closer to the time.
In the meantime, feast your eyes on Alfie's Anderson pin-up one more time: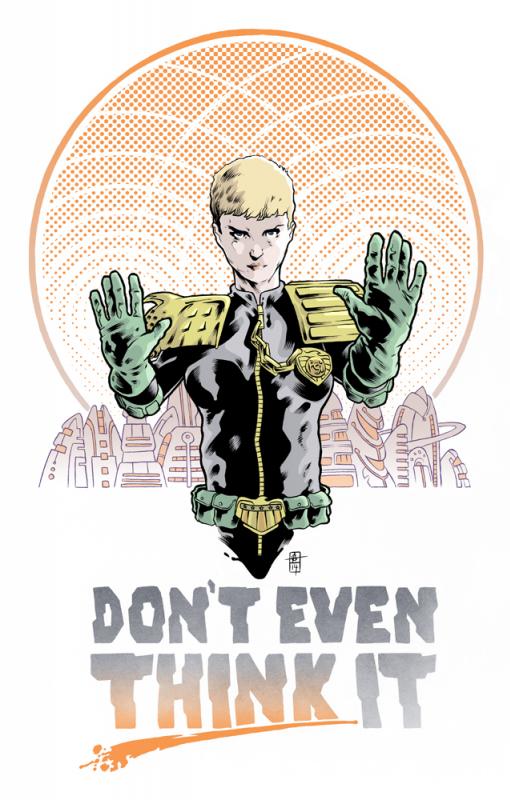 You can follow Alfie on Twitter
@AlfieGallaghe
and you can see
a blog post from him on this very strip here (with additional preview images!)
.
Zarjaz
#23 boasts this rather scrotnig Anderson cover from art droid
Mark Harrison
:
Zarjaz
#23 is available to buy now from the
FutureQuake Shop
and the
FQ Comicsy Shop
, priced £3.00 (plus shipping). A whole bunch of back issues are available from those links, too, if you think you can handle the extra Thrill Power!
FutureQuake #26 & Zarjaz #23 - OUT NOW!
Reviewed by
Unknown
on
10:30 am
Rating: