So,
Colin Smith
was kind enough to invite me back to contribute
another guest post
for his
final goodbye
to
Too Busy Thinking About My Comics
, and I decided to
squander
take the opportunity to talk about the fondly remembered, but largely overlooked,
Batman vs Predator
...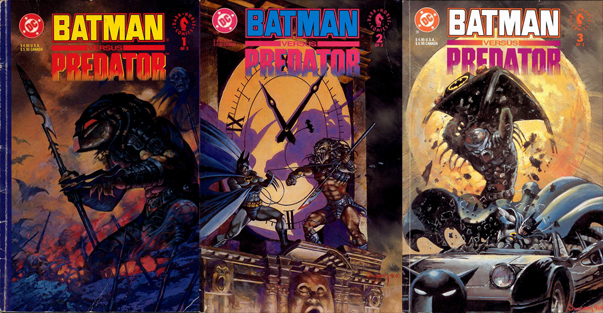 Yeah, yeah, I know what people are thinking, but I've hopefully staked my claim that it's actually a little gem of a series - by Dave Gibbons and Andy and Adam Kubert, no less! - that's really worth a second look. You can read the post
over at Too Busy Thinking now
(or click the image above, if you prefer).
And, just because, here's a little something related to the post that's also largely overlooked and forgotten:
Batman: Dead End
...
The guest post is actually rather bittersweet, seeing as Colin's
chosen to close the blog down
and pursue other, paying, opportunities, but I'm glad I could participate in his farewell series of posts, even in just a small way. Personally, I'll be sorry to see the blog go; ever since
Bryan Coyle
introduced me to Too Busy Thinking, I've enjoyed reading Colin's thought provoking and articulate posts; his consistently in-depth looks at comics and graphic novels were - and are - a change from the usual reviews you find on mainstream comic websites. And, more than a few times, his posts made me look at how I approach storytelling in a different light.
Of course, Colin took some time out to talk to myself and Bryan about
Babble
during the PR run for the book; it was a thoroughly enjoyable chat and I hope we can do it again for another blog or publication for a new project. The interview can be found
at Too Busy Thinking here
, if you're interested in reading it. You can find the man himself over on Twitter, too
@Colin_TBTAMC
.
I think, though, I'm going to end this with a picture that Colin ended his closing the blog announcement with, but also one that reminds me of his amazing and impressive 4 part look at
Superman: Earth One
and
All Star Superman
(
Part 1
,
Part 2
,
Part 3
,
Part 4
) and is a sentiment we should all remember:
"Stick together!"
Too Busy Thinking About Batman vs Predator...
Reviewed by
Unknown
on
10:58 am
Rating: