I've been neglecting this blog of late, so, I thought it'd probably be for the best if I posted something new
and interesting
up. I've been taking stock of a lot of things with life at the minute, so I thought I'd use the opportunity to take stock of work related stuff here on the blog.
Babble
First up, Babble is out to buy
NOW
, in case you weren't aware of that. The
reviews have been overwhelmingly positive
(to the point where I feel less weird referring to it as "critically acclaimed"), but we
could
still do with shifting a few more copies and spreading the word about it to get it into peoples hands. So, if you want a copy, you should be able to get it from your local comic shop, but if they don't stock it, you can ask them to order it in with the code
OCT120971
.
Alternatively, you can get it from these fine on-line retailers:
Alternatively, you can get a digital version from here:
After Babble
Yes, me and
Bryan
are working on something new that we're going to shop around to publishers once its ready to go, but there's not much more I can say unless it gets picked up. But here's a little something from it anyway:
Zarjaz & Dogbreath
I've seen art for three completed strips for Zarjaz and Dogbreath, and they should be appearing before the end of the year.
Durham Red: Neon Nights
by me and
Bolt-01
should be in the next Dogbreath:
Judge Dredd: Jurassic Farce, with art by
Stewart K. Moore
should be hitting the pages of Zarjaz before the end of the year (it may even be in the next issue, I'm not 100% sure at the minute):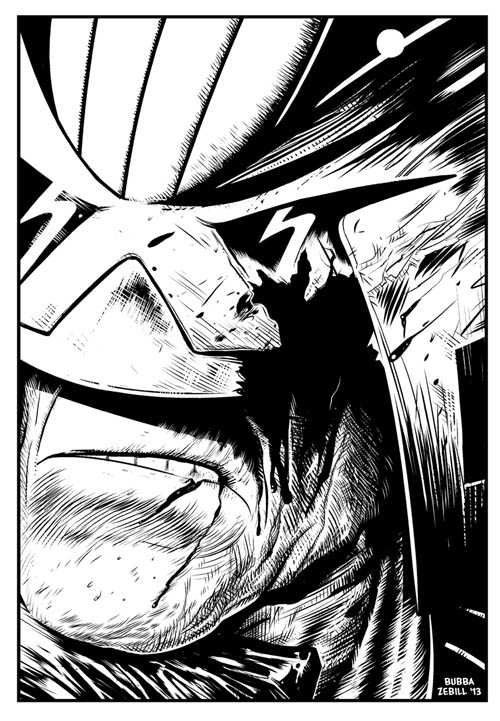 Hopefully, there'll be more Dredd coming from me and Stewart in the near future. Watch this space...
Judge Dredd: Collectors Market
, with art by
Stephen Downey
should well be hitting the pages of the issue of Zarjaz out in November. Here's a sneak preview, just between us: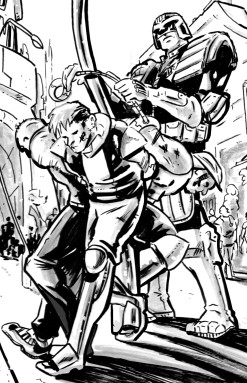 There's more to come from me, Zarjaz wise - including something I'm cooking up with Bolt-01 that I'm
really
excited about - but - I
think
- they won't be in print until 2014.
FutureQuake/Something Wicked
I've got one story upcoming for
FutureQuake
, with
Jim Lavery
providing art, which I'm really looking forward to seeing when it's finished.
Victoriana
And, finally... I've also got a piece in what looks to be the final anthology from
Accent UK
for the foreseeable future - which is a real shame, because those books are fantastic, and provide a brilliant showcase for comics talent from across the globe.
Anyway, Victoriana will feature
The Eyes Of The Ripper
by me and
Valia Kapadai
, and
should
be out later this year. The cover, by David Hitchcock, looks like this:
Valia and I are also working on something longer, but there's not much more I can say about it at the moment.
And that's pretty much everything I have on the slate at the minute. I think there's still more stuff due to see print in 2014, so I should be polluting more small press comics for quite a while yet...
Taking Stock
Reviewed by
Unknown
on
2:04 pm
Rating: