The latest issue of the
2000AD
fanzines,
Zarjaz
and
Dogbreath
, are out now - and I'm in both!
First up, in
Zarjaz
#16, me,
Dunk Nimmo
and
Bolt-01
have got back together for a Judge Anderson strip,
I, Death
...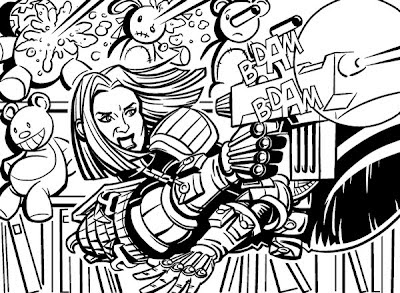 As night settles on Mega-City 1, Psi Judge Anderson is called out to investigate a hostage situation, but soon discovers it may be heralding the return of one of the city's greatest threats...
I've no doubt that the title of the story and that little breakdown will have a lot of people drawing conclusions about the strip, and who else is featured in it, but, hopefully, we'll have proved them all wrong...
I have to say that this was a pretty tough one to script. Although Anderson's cases are set in Mega City 1, they're a completely different beast to Dredd's usual tales and I never quite realised how tricky it would be to strike the balance between the weird sci-fi setting of the city and the supernatural elements of the Anderson stories. Still, it was a good excuse to go and read some old Anderson stories for research.
As ever, Dunk Nimmo does a beautiful job with the art, blending the darker, creepier elements with the off the wall sci-fi of Dredd flawlessly. I
really
can't say enough good things about Dunk's work, but seeing the art for this strip just reaffirms my feeling that he's one of
the
best artists working in the small press today.
The cover to Zarjaz #16 is from
Jon Haward
, with colours by
Nigel Dobbyn
, and looks like this:
The complete running order for Zarjaz #16 is
available over at The Quaequam Blog
.
Next up, we have
Dogbreath
#26, which features
Enough For Good
by me,
Steven Denton
and Bolt-01.
Discovering a fortune is hidden somewhere on an alien planet, a Search/Destroy agent goes rogue in a bid to find it, and won't let anything - or anyone - stand in his way...
I have to come clean here and admit I've never been much of a Strontium Dog fan (although, in my defence, I've read more of the series over the last few months and my feeling is starting to change). So, when I was asked to contribute to
Dogbreath
, I found myself a bit stumped. I knew
Strontium Dog
was, essentially, a Western in space, so I took that as my starting point. Saying more would be giving too much away, but, let's just say it's pretty obvious where I looked for my inspiration for this - and I was over the moon that Steven Denton realised what it was, too.
Steven's art just captured the mood and feel of the story
perfectly
; his story telling is beautifully clear and really nails the Western feel, but to say more, would, again, be giving too much away... I
will
say it was a pleasure to work with Steven on this and the finished pages left me with a
huge
smile on my face. In fact, I'd go as far to say that this may actually be my favourite Dogbreath strip to date. Be sure to check out Steven's work
over on his blog
.
The scrotnig cover to
Dogbreath
#26 is by Jake Lynch and looks like this:
The complete running order for Dogbreath #26 is
available over at The Quaequam Blog
.
Zarjaz
#16 and
Dogbreath
#26 are both available now, priced £3.00 (+ P&P) each. You can get them
both from the FutureQuake Shop
, and both comics - along with the other latest FQP titles - will be available
at this years Thought Bubble
. Alternatively, they're now available from
the FQ Comicsy Shop
!
Zarjaz #16 and Dogbreath #26 OUT NOW!
Reviewed by
Unknown
on
10:17 am
Rating: