In 1979,
2000AD
introduced the world to seven war robots, built and programmed to fight across any terrain - atomic, bacterial or chemical! Created by
Pat Mills
,
Kevin O'Neill
,
Brendan McCarthy
and
Mike McMahon
,
The ABC Warriors
proved to be one of the comics most enduring collection of characters to feature in The Galaxy's Greatest Comic - so much so that
Zarjaz
is dedicating an entire issue solely to them!
Over the years,
The ABC Warriors
line-up has changed considerably, with new characters coming and going as their never ending war through time and space racked up casualties, and this is where the creators involved in this special take their lead: each story is dedicated to an individual Warrior, both past and present, with a collection of stories that will leave your Thrill Circuits tingling long after you've closed the comic.
Myself,
Chris Askham
and
Bolt-01
take on
Joe Pineapples
, the ultra-cool assassin
with the interesting wardrobe
in a story called
Tin Man
: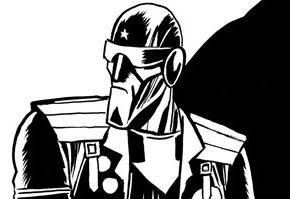 Joe Pineapples: former member of the X-Terminators - the cadre of elite assassin robots - and one of the most deadly beings in the galaxy. Cool and calculating, he is a literal killing machine that nothing and no one can stop. But perhaps there's something that can make him pause...
The ABC Warriors have always been some of my favourite characters in
2000AD
, and, in my opinion, their second adventure,
Black Hole
by Pat Mills,
Simon Bisley
and
SMS
, is one of the single greatest strips that ever appeared in The Galaxy's Greatest Comic. So, when I heard about the special, I knew I had to try and be involved in it, because, frankly, when am I ever going to get the chance to write
any
of those characters? In a shameless attempt to land a place in the comic, I submitted two scripts, but only
Tin Man
was picked up for the special (the other one,
Broken Dreams
, will be appearing in another issue of
Zarjaz
, due later this year, with art by my
Babble
collaborator
Bryan Coyle
), which was cool with me, as Joe is one of my two favourite characters from the series. So, yeah, I am one happy geek at the minute.
Not content with pulling together the cream of small press talent for the issue - and me - the
Zarjaz
editorial team have managed to get a pretty scrotnig cover for it from current
ABC Warriors
artist
Clint Langley
(with a new logo by
Michael Carroll
):
Zarjaz
#11 - The ABC Warriors Special features work from Matt Soffe, Kevin Levell, Rich Clements, Dunk Nimmo, Dave Evans, Eric Moore, Matt Badham and Gibson Quarter, and is available from
the FutureQuake Shop
, priced £3.00 (plus P&P) Earth money. And if
that
wasn't enough, you can also grab your copy from your local
Forbidden Planet International store
and
now
Orbital Comics
in London! So go and do yourself a favour and discover why Zarjaz is, indeed, The Galaxy's Greatest Fanzine!
Remember, for all your
Zarjaz
- and
Dogbreath
- news, check out
The Quaequam Blog
- but remember to set your browsers for maximum Thrill Power!
For now, though, let's leave the final word to Hammerstein:
Programmed To Kill! Destined To Die!
Reviewed by
Unknown
on
10:45 am
Rating: